* "During Ptak's audition, Runway design mentor Tim Gunn said her garments were the most beautifully constructed ones he had ever seen. "I think you are on the cusp of something big," he told her..."
- 2010, Elizabeth Wellington - the Philadelphia Enquirer (full text below)

To see video of Pamela Ptak's guest shot on the NFL Network's "Top 10 Uniforms" go to
http://www.youtube.com/watch?v=nnj_oFUqobs



Eastern Pennsylvania Business Journal, June 27-July 3 2005 by Kathryn F. Clark
"Designer sews up fashion career with high end fashion"

"Bucks County couturier Pamela Ptak lives, breathes, loves and creates high fashion…An ocean away from Paris, she nevertheless designs clothing in the tradition of Haute Couture, using the old French methods for draping and handwork. She specializes in French hand sewing, hand beading, embroidery and work with leathers, furs and feathers."

"Following the path of the great Paris couturiers, Ptak has her own elegant showroom/consulting room, a stripped-down no-nonsense workroom, and a fabric room worthy of a sultan's palace, where Asian and European textiles are hung in a bold rainbow of shimmering, sparkling colors. They are waiting to be turned into custom-made evening gowns of the kind that could go to the Oscar ceremonies …The gowns fit like a second skin and are as comfortable to wear as they are beautiful to see."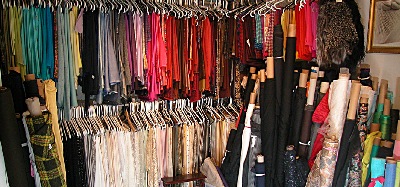 textiles room @ Pamela Ptak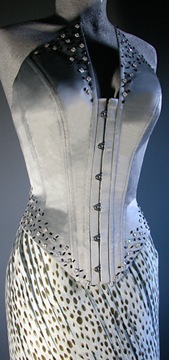 Bucks Magazine, Sept 2006 by Jennifer Smith Tapp
"Pamela Ptak – Woman of the Cloth"

"Ask any woman what her ultimate fashion fantasy is, and she will most likely say that she would love to have an article of clothing custom-made for her. Maybe you are a bride-to-be and you want a gown that is a little avant-garde but still sexy and glamorous, or you are looking for something special to wear for that winter escape that you have been looking forward to all year. Bucks County resident and couturier Pamela Ptak is in the business of making wedding and holiday-in-Capri fantasies come true. As the owner & designer of Ptak Couture, Ptak creates one-of-a-kind pieces in a myriad of styles, including eveningwear, resort & separates. Since leaving an advertising stint at Cover Girl to follow her dream to become a fashion designer, she has developed a rather impressive resume, including freelance sewing & embellishing for ultra-luxe label Chado Ralph Rucci and television appearances on HGTV & ABC-TV's Extreme Makeover Home Edition. More proof that the stars in the fashion galaxy do not all shine in New York City or Paris."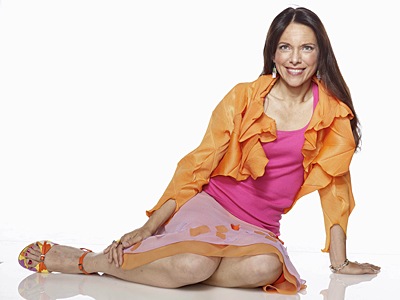 The Philadelphia Enquirer, January 13, 2010, by Elizabeth Wellington - Fashion Columnist Mirror, Mirror: Drexel professor to debut on 'Project Runway'

You won't see much of Pamela Ptak tomorrow night on the first episode of Lifetime's Project Runway.

In the fashion reality show's seventh season opener, all the Drexel University fashion professor gets to do is tell us that she's a small-business owner and type A personality. And during the competition we see Ptak's beautifully constructed backless cocktail dress on the runway.

But the wide-eyed, auburn-headed clothier, who says her favorite designer is God, promises she'll play a more significant role among the 16 well-established yet opinionated designers.

"No, I do talk more," Ptak said, laughing, as she spoke on the phone from her sprawling home in Riegelsville, Bucks County. "I get louder. It does happen."

After checking out Ptak's womenswear collection online ( www.pamelaptak.com ), that's not hard to believe. Not only is she a Chatty Cathy, Ptak is also extremely talented. Her dresses have amazing movement; the angular details combined with a nude and pastel color palette make for a grand presentation.

During Ptak's audition, Runway design mentor Tim Gunn said her garments were the most beautifully constructed ones he had ever seen.

"I think you are on the cusp of something big," he told her in this season's casting session, which you can watch on Lifetime's Web site. After a somewhat dismal first season on the women's network, Runway's second attempt, which brings the designers back to the Big Apple, seems to feature engaging designers who clearly are much more interesting to watch.

But there's no telling how Ptak will fare in the end. She says she's "dying" to tell how far she makes it, but her lips are sealed.

Ptak, 47, started in advertising at CoverGirl in the 1990s, and it was there that she designed garments for photo shoots. That was until her boss, well-known creative director Dick Huebner, persuaded her to design full time.

Ptak took classes at the Maison Sapho School of Dressmaking & Design and the Fashion Institute of Technology in New York. In 2001 she started a couture line, and last year she introduced a ready-to-wear collection. Her resumé includes time spent with Philadelphia-bred designer Ralph Rucci as he prepared the couture shows in Paris.

Pretty cool.


I talked to Ptak about her aesthetic vision and what she likes about Halle Berry and Harry Potter.

Question: What made you want to compete on Project Runway?

Answer: My students kept bugging me to do it. They kept telling me, "Oh my God! You'd totally win. You should try." And I kept saying, "OK, OK, do your work."

Q: Your bio on the Lifetime Web site said you were inspired by both Halle Berry and Harry Potter. Tell me about that.

A: Halle Berry inspires me because of her incredible level of intellect. She's a smart and wise businesswoman who makes good choices. She's balanced and she has a perfect body. She also appears to have a balanced spirit. She's like the perfect symbol of woman. . . . Harry Potter is not so much about inspiration. I like to listen to the books on tape and movies while I work. We work long days and having them play in the background is like having people around. . . . I delight in the fancifulness of the stories.

Q: What are some similarities between working in advertising and fashion?

A: In advertising, I learned the study of brand management, selecting and sticking to your brand's image. When you develop a brand image, you have to know who the heck you are and who it is marketed to. Once you figure that out, it's important not to veer from it. At all.

Q: So tell me about your brand.

A: The woman who wears my clothes is strong, but she's not afraid to be in a lot of different situations. She can be just as comfortable on the red carpet as she is at a street fair. She has an athletic sense about her, but she's not about the power workout. More yoga. She's stripped away all of the meaningless excess in her life.

Q: Sounds like I like this woman. How does this image translate into your design aesthetic?

A: I design pieces for women who feel comfortable in my unusual interpretation of flattering design. There are lots of open backs on my dresses. I have pieces where the arms arch backward, so the woman has to be graceful enough to arch forward to add to the way I designed the fabric to drape. This creates shadow and light and enhances the movability of the fabric. I also think details in construction are important. It's hard to see it, but my dress on the runway [tomorrow] is completely reversible. There are double zippers and seams in it.

Q: How did working with Ralph Rucci influence you?

A: He has influenced me to really refine my level of design. He's absolutely genius. . . . It's also why I work so quietly. His workroom is silent. That silence helps with the meditative quality of work and it also helps with speed.

Q: Has Project Runway changed your life?

A: It puts a spotlight on my viewpoint. It also shows off my thought process. I do things more through draping and sketching, much like Donna Karan. Her shapes were rounded; mine are sharp and angular. Project Runway really gave me a platform that is brilliant.

Contact fashion writer Elizabeth Wellington at 215-854-2704 or ewellington@phillynews.com.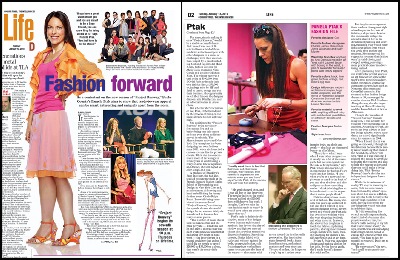 "If you have a great vision inside you and are meant to be a Coco Chanel, you can screw it up by being afraid of it," says Pamela Ptak. "You just have to not be afraid."


The Intelligencer, Tuesday, January 12, 2010, Naila Francis, staff writer
"Fashion Forward"


As a contestant on the new season of "Project Runway," Bucks County's Pamela Ptak aims to show that ready-to-wear apparel can be smart, interesting and uniquely apart from the norm.

It first happened in downtown Manhattan, in a youthful designer store where Pamela Ptak had popped in, sporting one of her own shirts.

An employee, immediately enamored with the piece, promptly ushered her over to the manager to gush over Ptak's handiwork before parading her around the store, extolling the shirt's virtues to just about anyone in earshot.

Bemused by all the fuss, Ptak recalls thinking, "Why are you reacting with, 'Oh, my god'?"

Later that same day, she was walking down the street when a "hip-hop dude" stopped her to tell her how great her shirt was.

Unsure whether his comment was intended to be flirtatious or genuinely appreciative, Ptak didn't know how to respond.

"I was thinking, 'OK, this is getting really weird,' but it turns out he wanted to know where he could get one for his girlfriend,' she says.

It was then, says the Riegelsville fashion designer, that it began to sink in.

As one of the contestants looking to raise her career profile on Season 7 of "Project Runway," beginning Thursday on Lifetime, Ptak received some early encouragement from fashion consultant Tim Gunn while auditioning for the hit reality show.

In a video clip on Lifetime's Web site, the fashion guru, who serves as a mentor to the series' contestants, tells Ptak that she's on the cusp of something big, noting her clothes are among some of the most beautifully constructed that he's ever seen.

"That literally was, like, such a huge, huge gift. You don't necessarily get a chance to be with any of these people privately, but if I could, I would go and shake his hand and look in his eyes and say, 'Thank you, that was such a kind thing,'" says Ptak.

But it wasn't until that day in New York that she grasped what Gunn was getting at.

"The way these people were reacting – that was the kind of stuff Tim was reacting to and I thought, 'This is bigger than I imagined,'" says Ptak, who moved to Riegelsville in 1994 with husband Scott Hanna, a renowned comic book illustrator.

For some, simply making it onto "Project Runway," would be a sizeable accomplishment. Ptak herself was one of 16 selected from a field of thousands for a shot to compete with other designers in a series of challenges, with their creations then judged by a panel including host and supermodel Heidi Klum, fashion director for Marie Claire magazine Nina Garcia and designer Michael Kors. The winner receives a cash prize of $100,000 from L'Oreal Paris to launch their own fashion line; a $50,000 technology suite from HP and Intel to create, design and run their business; the opportunity to sell their line on the designer discount site Bluefly.com; and an editorial feature in Marie Claire.

But whether she's victorious or not, Ptak, emboldened just by the process of being on the show, already has her sights set high.

She auditioned for "Project Runway" twice previously – for seasons five and six – before being cast this season and says even those auditions proved invaluable. The Massachusetts native and New York City transplant has been designing her own fashions since 2001, when she launched a custom couture line for private clients. While she has concentrated more of her energy in recent years in establishing a ready-to-wear line of separates and dresses, she still hoped to offer a high-end line.

A graduate of Brooklyn's Pratt Institute, she had also studied couture methods at the French-founded Maison Sapho School of Dressmaking and Design in New York City, and, as a freelancer did sewing and hand embellishing for luxury fashion house Chado Ralph Rucci. But while being interviewed for season five of "Project Runway," envisioning the upscale dresses she would design for her couture label, she was advised to focus on her ready-to-wear pieces.

"The number of hours that it took to make a dress and the price per yard – I had this lace on the dress I showed that was $230 a yard wholesale and then it had about 150 hours of hand work – the interviewers in a second could see that unless I could dig up people to spend $20,000 to $30,000 on a dress, that wasn't the most viable option.

My goal changed then, and it was all due to that interview. The regular ladies in the world who can't afford the $20,000 dress still deserve fine work. I thought, 'Can't we raise the standards in ready-to-wear?' It would have taken me years to figure that out."

Ptak's style is definitely distinctive, many of her designs woven from an architectural aesthetic that invites the play of shadow and light on unusual shapes that are often sensual yet discreetly feminine. Surprising cutouts, fabrics folded with sculptural whimsy against the body, unexpected colors, soft fluttering pieces worked into seams to accentuate the lines of the wearer – she creates with an eye toward the intellectually provocative. Her inspiration stems from old books, items found in nature, and animal anatomy and bone structure. The arc of antlers, the hinges on a bug's leg as it arches away from its body, sea shells and corals – she finds an element of beauty in all of them.

My style – what I wear when I wear other designers – it usually has a bit of the avant garde but not avant garde for the sake of being bizarre," says Ptak, who is also working on incorporating her husband's art work into her fabrics. "I love when you're at a party and people want to stand to the back of you and then the front and side to figure out how something works. I think (clothing) has to be intellectual … to the degree that it makes people think.

Ptak has always been enamored of fashion. Her mom, who only five years ago confesses to her that she'd wanted to be a fashion designer herself, always sewed and would take Ptak and her two sisters with her when she went shopping for fabric and other material. In stores, she allowed her daughters to touch the fabrics, explaining patterns sharing miscellaneous design tidbits with them, making shopping for clothes a tactile experience and an art form.

By age 5, Ptak was sketching designs and making clothes for her dolls. By the fourth grade, she'd made herself a jumper skirt with ruffles.

But despite encouragement from teachers throughout high school to pursue her love of fashion, a department head at the community college she attended steered her in the direction of painting and drawing, believing Ptak would establish a foundation from which she could then explore any medium. She interpreted his suggestion to mean that fashion wasn't a valid choice, and stopped sewing, pursuing a more practical career in advertising instead.

After graduating from Pratt, she worked for several years as an art director for some of the world's most prestigious advertising companies, overseeing campaigns for products such as Noxzema skin cream and CoverGirl cosmetics. She returned to her fashion design dreams at 30, encouraged by Creative Director Dick Huebner. Along the way, she also began teaching at Drexel University and the Baum School of Art in Allentown.

Though she was a fan of "Project Runway" from its inception, it was actually her students who encouraged her to audition. According to Ptak, the series has been a boon to fashion design schools, where attendance has raised significantly since it's premiere in 2004.

"When I heard that it was going to come out, I thought it was fabulous because there really wasn't anything that showed the behind-the-scenes," she says. "And as I was teaching, I realized this would be a vehicle to inspire the students and also to help the parents understand that you could make a living doing this. With 'Project Runway,' there's the idea that independent designers have a chance."

While the invasiveness of reality TV may be daunting to some, Ptak has never much been bothered by others' opinions about her, and as a Baha'i, she says she holds herself to the already high standards of her faith, leaving little room for anything that would paint her in a dubious light.

"If I did something like scratch myself inappropriately, that's kind of a bummer that people would see that, but there's really nothing in my life that I have shame about," she says, nonetheless acknowledging that footage can be edited to change the tenor of certain situations. "You have to just be truthful to yourself. Don't try to play an act.

"Be who you are," she says, "and you'll be accurately portrayed."


SIDEBAR: Pamela Ptak's Fashion File

Favorite Designer: God

Favorite Fashion Designers: Charles James, Balenciaga, Junya Watanabe and Issey Miyake

Wardrobe favorites: anything by Ann Demeulemeester, an Yves saint Laurent jacket with boning in the waist, a pair of Alexander McQueen pants with "crazy zippers"

Favorite colors: black, lime green, fuchsia, orange, red, robin's egg blue

Design influences: modern architectural shapes, huge metal sculptures, and the works of Romanian sculptor Constantin Brancusi and American abstract artist Louise Nevelson

Favorite material to work with: anything stiff and crisp with architectural possibilities, or extremely delicate and sheer

Fashion faux pas: feather boas

Style icon: Iman -www.mylifetime.com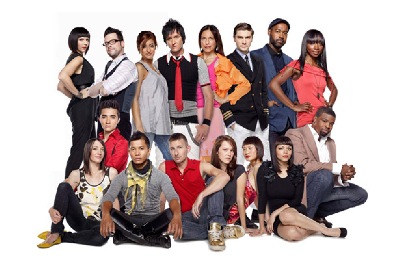 Pamela Ptak is one of the contestants on Project Runway. (Morning Call File Photo)

The Baltimore Sewing Examiner, Friday, Feb. 4, 2010 by Wendy Kaufman
Interview with "Project Runway" season 7 designer Pamela Ptak

In a past life,Project Runway designer Pamela Ptak must have been a motivational speaker. Okay, so maybe she was an evangelist, or a siren, something like that. Who can really know? What I do know is that she has charisma, and an energy that is contagious. I am sure that she puts this charisma to good use when she teaches, and based on this interview alone, I highly recommend finding any way possible to sample that, first hand. She's a local girl, residing just north of Philly. She teaches at Drexel, Baum School of Art, and in various cities across the U.S. by way of her "Camp Couture." She's available to speak and teach at your sewing event. If you do hire her to speak, she'll even stay in your spare room instead of a hotel to help save you cash. Now, how can you not want to run out and book her right away while the getting is good?

Ironically, it may have been this effervescent, magnetic and composed personality that caused her to be aufed so soon. Simply said, she was just too much of a goody two-shoes to keep on. To that possibility, she offers "You want an opponent who is going to play the game with you." Pamela is just not in that "space". She says she falls in love easily and in the brief time that she was on the show she fell in love with the cast. She sees herself as a Hermione Granger type with a tender heart. That nature kept her from properly defending her burlap look. "Some of the things I could have said to defend, in my impression, they would have caused harm to the heart of someone. And it would have either caused harm to the heart of a model, or it would have caused harm to the heart of a contestant whom I cared for."

Always the teacher at heart, she had a second agenda for her time on the show. She already knew her skill level was at haute couture level, so she did not try to run practice challenges—those are pretty hard to do outside the confines of the show anyway. It's all just too artificial to try to duplicate at home. Instead, she chose a way to prepare that was a bit unorthodox, and with a mind toward that second agenda of hers. "I did as much spiritual preparation as I could because I wanted to be a good example to my students: Behaving properly, and not cheating, or slapping someone, or stabbing them in the back. If I held to that high standard, then in my viewpoint, I won by holding to the standard that is the representation, of what a Baha'i would do in the situation."

It was her faith that helped her find a lot of good in her not continuing on the show. She wanted to show in Bryant Park, but that was not what she had prayed for in her spiritual preparation for the show. She had prayed to God that he would help her follow His will, not hers. She had asked that if anything was bad for her on the show—bad for her soul, her body, her faith—then He should get her off. "I believe it was not the judges who got me off, because their reason for kicking me off was wrong. Didja notice? Hello? The right reason was that you threw your aesthetic out the window. So I really think it was God that got me off the show, not the judges. He used their mouths to do it." Always the obedient girl, she was happy to go.

It was her obedience that caused her to "go" early in her career as well. Pamela had been dabbling in fashion since she was a small child. Just recently she found some of her childhood fashion collections under her grandmother's carpet from when she was 5 years old. "It's even got code numbers on the collection." Yep. This one had it bad. Still, she left it all behind because of some advice she got at school. She stopped sewing altogether, save for Halloween costumes, for 15 very long years.

"The reason I actually diverged from the path of fashion design was that a very well-meaning teacher at college looked at my portfolio, saw that I could draw and paint and was a painter himself … and strongly encouraged me not to go into fashion, but to do drawing and painting—probably because he loved drawing and painting himself so much. And because I was a very goody two-shoes—you're going to keep hearing me say that: I was a very goody two-shoes kid, I obeyed adults when they told me things. That may also be partly why when the model wanted short and tight, sporty, and whatever—why I did it too. Because being good, being obedient, being helpful, trying to please people is a part of my nature."

Being obedient—and getting aufed—paid off this time around. Not that spending years winning design awards for her graphic art did not. It's just that fashion has always been her first love, and now she is poised to launch herself into the field with the push of Project Runway's publicity to propel her forward. Being aufed early has afforded her time, and permission, to do things she could not have done had she stayed on longer. "Many, many good things are happening: Getting a showroom in NYC. Showing at Coterie. If I had stayed on for 5 or 6 weeks, it couldn't have happened, because I would have been in the limbo of nobody knowing I'm off."

Now that she is off, she is free to root for her favorite to win, and she was very frank about the topic as she gushed about the skill level of the contestants. However, only one can win. She says she likes Ben or Jay or Ping (because of her vision), to win. "I really tend toward designers who actually have skill at pattern making, not just surface decoration. I think surface decoration is beautiful, but if you are working with a silhouette that just every single time: Match the body, stick some stuff on it. Match the body, stick some stuff on it; anybody can do that. They just have to get skill at technical surfaces. To do things that form differently around the body, that to me is much more challenging."

She certainly has enough ahead of her to provide ample challenges as she moves forward with her ready-to-wear line. "This time it will be 100% my vision, and nobody else will own the clothes." She says she also brought back a lesson for her students: "You don't always win, but that doesn't mean don't try." She laughs and adds "I'm a glass half full, can you tell?" Yes, Pamela. We can tell, and we can't wait for you to spill that half-full glass all over the fashion world.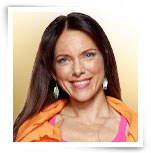 The Philadelphia Inquirer, Thurs., Dec. 17, 2009, Michael Klein INQlings
Designer heads for 'Runway'

Drexel fashion instructor Pamela Ptak will be among the designers under the microscope on next season's Project Runway, which premieres on Lifetime at 10 p.m. Jan. 14.
Ptak – you pronounce the first letter of her name – credits God as her favorite designer and gets high praise from the persnickety Tim Gunn: "These are among the most beautifully constructed clothes I've ever seen."
She was selected on her third tryout. "I very much loved the process of interviewing," says Ptak, 47, a Massachusetts native and New York transplant who lives with her husband, illustrator Scott Hanna, in Riegelsville, Bucks County. "They gave me amazing insight. I would keep trying out and sharpening my brain. You can't pay anyone for the knowledge you get from trying out. It was like grad school for me."
Ptak, who teaches the couture graduate class for corseted evening wear at Drexel, as well as at Baum School of Art in Allentown, is a career-changer, having started as an art director on campaigns for such products as CoverGirl cosmetics and Noxzema skin cream. Legendary creative director Dick Huebner encouraged her to try fashion at age 30. Her resume also includes studies at Maison Sapho School of Dressmaking & Design and design time with Chado Ralph Rucci.