"Wear your life brilliantly." - Pamela Ptak™


Pamela Ptak dresses modern women in intriguing garments designed to evoke emotion and thrill the intellect. Her sophisticated line of dresses, skirts and tops describe the female form in lines, folds & textures which are at once sculptural and wildly flattering. For the intellectual woman with courage and wit, Pamela's marriage of the art & science of fashion creates a line which resonates in the heart & soul.


"I think of garments in terms of architecture…clothing as wearable sculpture. Not as a
covering for nakedness…but as a statement of high-minded principles and thoughts.
That it does in fact provide coverage is a matter of mere practicality."


During Pamela's casting for Project Runway season 7, Tim Gunn called her work ...
"...among the most beautifully constructed clothes I've ever seen"
and said "I think you are on the cusp of something big."


From '2003-'06 Pamela Ptak freelanced seasonally, sewing & couture embellishing on the Paris Haute Couture and NY Ready-to-Wear collections for Chado Ralph Rucci and pattern making for Shelley Steffee in 2007. She debuted her PAMELA PTAK 2010 RTW collections at the Van Alyn Mansion in NYC during Sept 2009 fashion week and her 2011 collections at Philadelphia Fashion Week. She creates one-of-a-kind pieces for her celebrity & private clientele. WWW.PAMELAPTAK.COM


Pamela and her husband Scott Hanna founded the "Arts and Fashion Institute™" in Riegelsville, Bucks County PA just North of Philadelphia where they offer rare specializations, inspiring students & teaching creativity at the highest level. Pamela personally teaches advanced graduate level draping & pattern making under her
"Radical Free Draping & Pattern Design™, fashion illustration, enhancing your creativity, Haute Couture sewing techniques, draping stretch knits, lingerie design, and graduate level corseted evening wear. WWW.ARTSANDFASHIONINSTITUTE.COM


Pamela's fashion art was exhibited at Le Musée des Arts Asiatiques in Nice, France & the Puck Gallery in NYC. Her garments were featured in the one woman show entitled "Line, Texture, Fold: The Art of Pamela Ptak" , in national magazines (Us, Marie Claire, SOCO & Threads) and in 4 annual couture issues of "Stitches" magazine. She's made appearances on Lifetime Television's "Project Runway" season 7, the NFL Network's
"Top 10 Uniforms", HGTV's DIY network, ABC's "Extreme Makeover: Home Edition"
and AMC Network's "Comic Book Men."


As a collector, educator & fashion scholar, Pamela maintains & curates a private collection of unusual major designer fashions which she uses in trunk shows & lectures
to inspire the next generation of fashion designers & collectors at colleges, museums & sewing groups across the country. WWW.ARTSANDFASHIONINSTITUTE.COM & WWW.STRIVE2INSPIRE.COM

Contact Pamela Ptak: 610-346-6071 or ptakhanna@aol.com



TRAINING

After graduating from Pratt Institute with a BFA in Art & Design, Pamela Ptak worked
as an art director for several of the world's top ten advertising agencies on Cover Girl
cosmetics, Noxzema, Citibank, Diet Coke & more.

She did intensive studies in both haute couture methods and NYC garment industry methods of fashion design at the French founded Maison Sapho School of Dressmaking and Design and the Fashion Institute of Technology in New York City where she maintained a 4.0 average.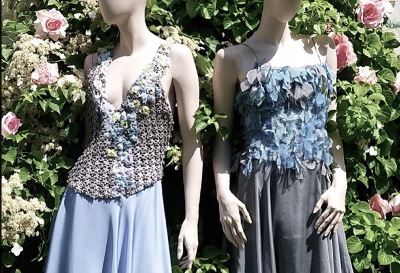 Photo: Garrett Hothan